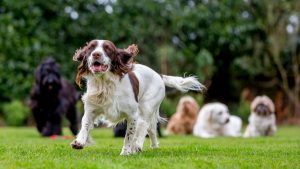 We're dog trainers with a passion for helping dog lovers become responsible dog owners through continuous training and education.
Access to dog training in today's world has never been easier.  We can do a simple search online and come up with hundreds of different methods and techniques to train our dog, but how do we know which one will work for us?  And do we have the time to make the investment needed in the beginning to lay the foundation?
This is where we come in.
From the start we are here to walk with you to ensure you are set up to succeed.  From the initial consultation where we come to you to meet your dog and assess a recommended training program, to the post training program support we offer to ensure you are confident applying the techniques we've instilled in your dog, as well as the monthly group classes set up to practice with others who have gone through our programs; we are always available to help.
---
Our Mission
We help dog lovers become responsible dog owners through continuous education and training.
Let's face it, we live in a disposable society. According to the ASPCA, about 3.3 million dogs are brought to shelters every year.  Of those, about 670,000 are euthanized.  Every year.
It's easy to become overwhelmed when our dogs don't listen to us.  We forget they do not know English.  We forget they are animals with animal instincts and not human reasoning.
We believe that owning a dog is a responsibility, and part of that responsibility is setting up an environment to help your dog have a successful life. Just as rules are adopted by humans to assist in providing clear direction for how to navigate life, rules need to be outlined for our fur babies as well.
We solve the problem. We take the guessing game out. We ease the debating committee in your head as you try to determine what to do about your dog's behavior.
We give you the tools and support you need to have the confidence required for a successful life as a responsible dog owner.
---
Our Core Values
Respect Yourself: Every single one of us has worth as a human on this planet. We believe that in order to provide others with the respect they deserve, we first must respect ourselves. We have purpose. We matter. And we treat ourselves with this regard. We cannot lead our families and fur babies if we do not have respect for ourselves.
Respect Others: Each person we encounter has a right to be here, to exist, and we treat them as such. We do not tolerate arrogance or self righteousness. Every encounter with another is an opportunity to teach or learn.
Be Humble: We are forever students. We facilitate cross training within as well as with our clients. We have all been at day one and we don't forget what it was like to be a beginner.  We are all beginning at something.
Be Creative: We encourage wonder. We are continuously seeking to further understand and learn our skill of training. There is not a one size fits all approach to dog training, and we foster an environment where this learning can be leveraged.
Do One More: There is always more in the tank. We are way more capable that we realize and we challenge each other and our clients to push the boundaries of what we think our capacity is.