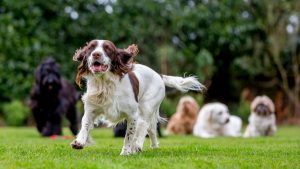 We are the dog training company in the Houston, Texas area focused on attention to detail and precision when it comes to training your pup. Even in basic obedience training, our team can help your dog retain more focus and attention in a private or public setting. We keep our training curriculum fun and exciting to ensure your pup always has positive reinforcement at all times. Our team is loving and caring, and we treat your dog just like they're our own at all times.
Are you searching for a local in-home dog training program? Is your life too busy so you need a boarding and training option? Whatever the case, Come & Train It K9 is here to help!
---
Our Mission
Come and Train It K9's mission is to help dog families learn a more effective way to communicate with their dogs through our transferable training technique that provides:
Better communication between your dog and you
Better quality of life for your dog and you
Confidence in taking your dog with you anywhere
Our founders at Come And Train It K9 have collectively been working with dogs for more than 20 years. Initially, we all typically worked with dogs at a sport level. After seeing the constant overturn of pets and homes, we decided to do something about it. Our team is committed to ensuring the happiness of both dog and owner(s). We also want to ensure a forever home for every dog brought home from a breeder, a local rescue or a Houston-area pound.
The Come And Train It K9 team has worked diligently to instill success and a drive towards perfection in all our trainers and staff. This is reflected in the training we provide for each and every pup going through one of our programs.
---
Our Goal
The Come and Train It K9 goals is to invest as much time in our clients as we do in their pets. We believe establishing clear communication with your dog is your best chance at having a successful home for you and your dog. We speak with owners every day who are frustrated with their dog's behavior, from tearing up your home or pulling on their leash when you go for a walk to more serious challenges such as anxiety when faced with new places or aggressive behavior. We work with you to set up realistic goals for you and your dog to bring a better quality of life to all. Do you have a new puppy or dog? Don't wait for bad habits to form. We can help set the foundation for good behavior and assist you as your puppy or new dog becomes an established part of your family.
---
No Dog Returned
Each year 1.5 million dogs are purchased or adopted through breeders, rescue organizations, and local humane societies, and each year over half of that 1.5 million are returned each year. In standard business practices, a 50% return rate would be considered a failure. Our goal is to decrease the rate of return and help dogs and their families find their 'furever' homes.